Mechwars: Arena
In a dark, grim future, violence rules the world. States manipulate the most basic of human instincts to ensure total control of society.
Now... Your turn...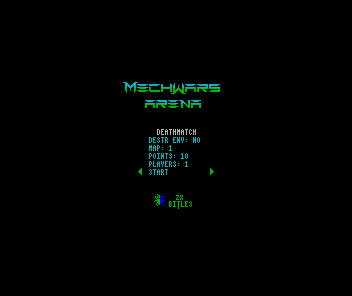 The game has 8 maps.
It supports following modes: Deathmatch, Control points and Capture the flag.
You can play alone or in a team with AI against the enemy team. However, we recommend inviting a friend, buying a few pints of beer and having a wonderful evening!
Comments
Who does your music? Because the opening tune blew my mind
Can I download the game if I donated for the development?
Please write to zxbitles [at] gmail.com.
I have no mail from you. By the way, the game was sent to you by mail as well as fixed versions. Please check and let me know.
Thank you!
Sorry, I was busy. Game received. Thank you!
No worries. Good to know. Have fun!
The game took 3 place in GOTY 2021 BASIC nomination. :)
Another excellent game from ZXBITLES. The possibility to wreck havoc on the environment, tear down towers, destroy walls and trees, ist wonderful. Capture the flag in team with an AI is quite difficult but also very rewarding. I yet have to play it against a human opponent but I don't doubt it'll be some glorious fun. I really appreciate the possibility to chose which powerups will be in the game and which wont.

Thank you so much for your feedback!
Hi, will you have a physical version available to buy soon?
Hi.
I'll do my best to release physical version ASAP, but I cannot promise, that it will be soon.
I will write here, when we will be ready. :)
Did you get my mail with the game?
Yes, great fun thank you, been battling with my son, love it!
Hi, as i said earlier i'm loving the game, thank you, but just a little feedback, it would be nice to have kempston joystick option for one player (or both) and keyboard for other, as its a little cramped on the keyboard on my zx spectrum next for both players, ( I use the 8bit duo controllers which are great by the way, and being able to use two joystick would be fab) also an option to turn on/off the 1 kill, freeze, shields and power, would be great addition too. :)
Hi!
Thanks for your feedback!
I add options for the game where you can disable any of items (snowflake, armor, battery or scull). In addition, there is now a 25% chance of a snowflake appearing instead of an armor. Previously there was a 50% chance.
Yes, I thought to implement Kempston, but I am almost out of memory...
I am going to test the changes and will deliver the updated version today.
Sent a small donation for support :)
Thanks, friend!
I will contact with you and send the game, when it will be ready.
I see no mail address in your donation. Could you please contact with me by zxbitles(at)gmail.com?